Finding Accommodation Abroad on a Career Break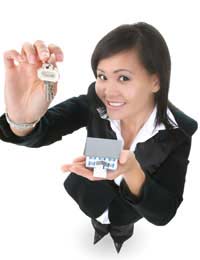 Travelling abroad on a career break can be one of the most exciting times in an individual's life - but is also fraught with insecurity. In particular, finding the right accommodation overseas can be a stressful, daunting prospect, especially for people with families. If it's not done right, the potential move can cause undue anxiety as well as financial turmoil.
If you're lucky, housing will be provided as a perk of the job - schools that hire qualified TEFL teachers, for example, often include free or subsidised housing, and if you take a sabbatical from an academic posting you may qualify for a university or school housing exchange. Similarly, snowboarding and ski instructors often are given their own chalets or chalet rooms, while basic accommodation is often provided to volunteers on programmes in many developing countries.
If you're unlucky, however, you'll have to jump over a number of housing-related hoops and hurdles before you find suitable, safe accommodation. So before you even begin to even look for a place to live, it's imperative to know what's out there - and what your own needs are.
Know What You Want
Research as much as you can beforehand. Learn as much about the area you are visiting, not only the country itself but the city, region, and, if possible, even the neighbourhood where you plan to live.
Keep to a set budget. Can you afford a house with swimming pool, will you be living in a tiny flat or a dormitory? Cheaper countries can often provide the means to live high on the hog - if only for a short period of time - but budget appropriately so you're not caught short before your career break ends. Arriving back home deeply in debt is usually not high on people's priorities when they set out on a career break!
Have realistic expectations. How well do you speak the language, how adventurous are you, and how long will you be abroad? These answers are crucial when deciding whether to live amongst locals, or in an area populated largely by members of the expatriate community.
Don't underestimate your family's needs. If you have children, finding a home near the right school is mandatory. Locating the best school for your family will ensure your child does well both academically and socially - and make your life a lot easier whilst you're away.
Do Your Homework
Once you're decided what you want and what you can afford, the real search for accommodation can begin. Most people taking career breaks or sabbaticals abroad don't have the luxury of visiting their chosen country before their sojourn begins, so a lot of guesswork is involved. But educated guesses are by far the most successful ones.
Start by asking other families/individuals living in the area you are planning to stay what housing options are available. The ex-pat grapevine is often the best way to find the most up-to-date insider information, and you may even find a house-swap available for a set period. Look for ex-pat Internet sites or ask the British Embassy there for advice. Your future employer or volunteer coordinator abroad can also provide invaluable help.
Checking Internet sites that offer rentals abroad can also be a good idea, but it's best to ask for help along the way with a professional property finder based in the UK. Again, asking ex-pats for recommendations can be extremely useful, as well as talking to UK-based organisations (travel, academic and commercial) that specialise in your chosen country.
Getting safe, comfortable and affordable accommodation abroad whilst on a career break will enhance your experience greatly. But organising housing overseas takes time, so plan as far in advance as possible. It may seem like an uphill battle at times, but the time you invest now in finding a suitable place to live will reap huge rewards when you finally arrive at your chosen destination!
You might also like...