Renewing Friendships at Home After Time Away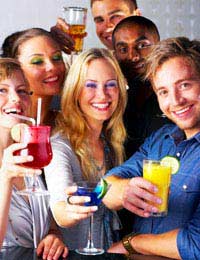 Going off on a career break means leaving your old life behind, for a few weeks, a few months or even a few years. But most of us will eventually come back home, and when you do, you'll likely seek to renew old friendships. But making the transition to life back in your old surroundings is not always easy, and reestablishing old friendships may be more difficult than you think.
If you've spent months building wells in Sierra Leone, learning Tagalog or teaching English to children in refugee camps, you may think you've changed loads. Many people find it hard to adjust back to their old life, where Sunday night pub discussions revolve primarily around mortgages, football and beer. If you've been away for several years, it may be even more difficult to pick up where you left off, especially if your old crowd hasn't moved on.
But don't despair. Keeping old friends - and forging new relationships - is far from impossible. While your career break experiences may have irrevocably changed you, you'll eventually find that you are still the same person deep down. You'll also find that the old platitude is true (in most cases, at least), that old friends are worth their weight in gold.
Here are some tried-and-tested ways to renew your old friendships:
Host Your Own Welcome Back Party
Don't bore your friends with a three-hour slide-show of your trip. Instead, host a fantastic party where people can get together, have a drink or two and chat about the good old days. This will give you the opportunity to talk about your experiences in a relaxed setting, and also discover what others have been up to while you've been away. It may also be a good chance to network if you are seeking a new job or job change.
Take an Interest in Other People
You may have been backpacking around the world, working in a Japanese bank or helping save the elephant in Tanzania, but don't assume that everyone will be interested in your adventures. Some friends may even be jealous or feel inadequate that they haven't had the same types of experience. Talk about your trip, but be aware of others' feelings and know when to move on to something else.
Attend a Reunion
Some people may find this a bit scary, but you may strike up a new friendship with your old worst enemy. On-line reunion sites are the best way to discover what's being held and when. Who knows, you may find other careerbreakers who have had similar experiences to your own, so you can swap stories and trade advice - and even talk about job opportunities at home for people with your background.
Do What They Do
You may find that in your absence your best friend has developed an interest in salsa dancing or flower-arranging. While this type of activity may never have appealed before, grab the opportunity to try something new. At best, the two of you will find a new shared hobby. At worst, it's only a few hours out of your time! No matter what happens, your friends will appreciate your making the effort.
Renewing friendships at home is an important part of returning to your old life. It may be easier for you to adjust - and your friends to adjust to you - if you've kept them up-to-date with your adventures and experiences while you've been away. Writing an accessible on-line diary or blog or sending regular joint e-mails or newsletters is one relatively easy answer. You'll find there is less of a distance between you when you return if they are aware of what you actually did during your career break.
Whatever happens, don't underestimate the importance of maintaining old friendships after you return home. Shared experiences count for a lot more than most people think. Make an effort to seek out old friends, and you may be pleasantly surprised by what you find.
You might also like...