Starting a New Career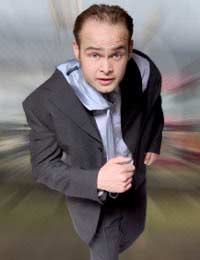 Coming back from a career break is an exhilarating time. It can also be one fraught with indecision and insecurity.
Many people return home having given up their jobs, and many come back with a new sense of direction, determined to find ways to kick-start a new career.
Whatever your circumstances, look at this time as one of opportunity, and make the most of it.
While starting a new career at any age can be frightening, in the long run it could be the best decision you'll ever make!
Many people take career breaks to escape from a job that no longer fulfills them, and to either reflect on what they want from life or try out new experiences. Being away can give you new skills, allow you to recharge your batteries, make a contribution to others and perhaps see the world.
Be Realistic
Experience gained whilst on a career break is almost always seen as positive. But if you've been on an extended career break, one for a year or even more, future employers may see your time away as slightly problematic. In some cases, you may need to gain new skills – or refresh your old ones – to start the new career you want.
While you may return back to the UK full of renewed vim and vigour, don't expect all potential employers to embrace you with open arms. Making the transition can be difficult, and it may be a while before you find your feet. Starting something new is exciting, but it's not always easy!
Know Your Reasoning
Before you dive in and start looking for something new in earnest, look long and hard about why you want to start a new career in the first place. Some people, after lots of soul-searching, end up realising they love their professions, they were just unhappy with their workplace, their employer or even their immediate manager. Changing jobs is a lot easier than changing careers.
If you are truly convinced you want a new change of direction but aren't sure what to do, there are plenty of resources available to help you. Research new careers online, talk to people in different professions that interest you, try an adult work placement for a while to gain experience, if you can.
Many firms also offer psychometric testing which can help you decide which type of career could suit you best. You may be sceptical of such testing, but some people say they opened up new avenues they never thought of before!
Five Top Tips to Your Dream Career
Explore as many options as you can. When thinking about a new career, it's important to think logically. Focus on what you liked and disliked about your old job, and how you want to do things differently. The more specific your wants and needs, the easier it becomes. Do you want to work less hours – or more? Do you want something creative, or a job that involves number-crunching? What type of specialised training will you need?
Talk to other people who have also changed careers. This is a life-changing experience, and you can benefit from people who have been there before, and can show you the ropes. Look around for people who have found a career path that is meaningful and satisfying to them, not just money-chasers. See how they did it, and what advice they can give you.
See the big picture. Think about what you want from life, not just from the job. If you career defines you 100 percent, you're in trouble. Well-rounded individuals have more in life than just a job, they have friends, families, hobbies, and other interests. Don't define yourself purely by your salary, job title or job responsibilities.
Get support. Thinking about a new career, especially if you're that much older, is challenging, to say the least. But in today's climate, take heart in the fact that you're not alone. Don't act like you are, either – your friends, family and former colleagues are there, so get as much support as you can and never underestimate the power of networking!
Don't be afraid to invest your time. How many times have you heard people say they'd always wanted to be a doctor or lawyer, but never wanted to put in the hours? Isn't it better to spend time gaining new skills or polishing up old ones, then having a fulfilling, satisfying career for the rest of your life? Make the effort – it will pay off both financially and personally.
You already took the plunge when you decided to take a career break. Now you're ready to go in deep waters again by starting a new career entirely. You've already proved that you know the ropes, and that you are more than ready – and capable of – taking on new challenges. So good luck to you!
You might also like...