How a Career Break Can Affect the Self-Employed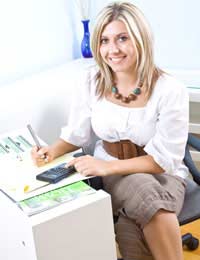 Even entrepreneurs dream about giving up their day jobs. And they should: in some ways, self-employed people find it easier to take a career break than those who are employed by others. In other ways, however, taking a career break is more difficult for the self-employed. The bottom line is, quite simply, that size matters. If your business employs numerous people and pulls in a hefty profit, you may be able to give yourself a salary while you're away. If you run a one-man-show and/or have not been in business very long, this might will not be the case.
If you work at home on your own out of a home office, you may be able to find someone to run your business in your absence, and either continue to make a profit or, at the very least, keep the business running. If you run a small business outside your home that employs several individuals, this is even easier to do. It's up to you to work out the maths: is hiring extra employees potentially more profitable than closing up shop?
Keep in Touch
If you do leave your business in someone else's hands while you're away, don't underestimate the importance of keeping in touch while you're gone. It is vitally important to be kept up-to-date of all business and other related developments while you're away. Decide on a weekly phone call or email, and make sure your replacement knows when to bother you and when to handle things independently. Final decisions should be your responsibility, unless you decide otherwise beforehand.
Top Tips
Getting a flexible mortgage can be a fantastic idea if you're self-employed and contemplating a career break. Not only can you spread out mortgage payments but you may be able to swing a complete mortgage payment holiday.
Remember that if you are working abroad and not earning money in the UK, you may be entitled to a tax refund. Check with Inland Revenue before you go. For most self-employed people, this won't make much difference – you'll be earning less money, and therefore paying less tax. It is possible – and easy - to pay online taxes from outside the UK, and don't forget to keep up your National Insurance Contributions while you're away.
If you receive tax credits, you must tell HM Revenue and Customs within one month if you are planning to be abroad for more than eight weeks. You must also notify them if your income goes up or down, or if you begin to work fewer hours. Check to learn what the laws are and to find out how to adhere to all legal requirements.
A stakeholder pension may be better than a personal one if you are self-employed. If you do opt for the latter, check that your scheme doesn't charge you when you stop working. Continuing to pay in the same pension plan will also be cheaper when you return than starting a new one.
You will be responsible for keeping up your health cover while you're away. Make sure you have adequate cover before you go.
Consider getting a self-employed loan if your career break will be of short duration. Many companies offer such loans, but seek out only those from qualified lenders with favourable terms.
The idea of self-employment and becoming your own boss appeals to many people. But while from the outside being self-employed sounds liberating, in reality it also means incredibly long hours and hard work. Self-employed individuals can benefit from career breaks as much as people who are fully employed, and can often find the experience is of invaluable help when they return back to running their own businesses.
You might also like...