Funding a Sabbatical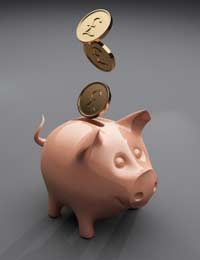 The prospect of a going on a career break or gap year gives us the freedom to dream. We all daydream about cycling through Tuscany, climbing the Great Wall of China or angling in Antarctica. But putting dreams into reality is another issue altogether. More often than not, money is the pivotal factor.
You have nothing to worry about if you're independently wealthy (or have wealthy relatives!), have a redundancy package to fall back on, or have been squirreling money aside for that rainy day for the last 12 years. Unfortunately, most of us don't fit into any of those categories.
Never fear. With proper planning you can garner enough funds to embark on a career break or sabbatical for a few months - or even a few years. Some programmes offer free or subsided housing, others can give airfare or expenses. It's essential to get enough cash together to fund the trip itself, which could include airfare, supplies, insurance, accommodation abroad etc. But don't forget that for most people - especially if you have a mortgage - covering your household expenses back at home while you're away is equally crucial.
Get a Job Abroad
Teaching English as a foreign language or working in a bar in Australia for a few months can help you overcome that financial hurdle. Be aware of local employment regulations and find out what work permits are needed. Some countries, for example, stipulate you must change employers every six months to remain working.
Rent out Your Property
Renting out your property can be a good way not only to cover your mortgage, but, if you're lucky enough to have a small mortgage or no mortgage at all, to make the extra money you need to finance your trip. Whether you choose to use a lettings agency or take an independent route is up to you. Ensure you have a trustworthy tenant or tenants in place throughout the duration of your break to avoid problems. If you have a spare room, getting a lodger before you go on your career break can also provide you with extra income.
Hold a Car Boot Sale
Get rid of unwanted possessions by holding your own car boot sale or selling items on-line. You'd be surprised at how many things in your home you don't actually want - or need. Participating in a car boot sale is easy, and even first-time novices find flogging things on-line relatively easy. If you're leaving abroad for an extended period of time, selling your car could also be a worthwhile money-making venture.
Host Your Own Fundraiser
Many people, especially if they are taking a career break or gap year to volunteer either at home or abroad for a worthy cause, stage fundraisers to get money to finance their trip. Plan a dance-a-thon, sponsored walk, or a series of bake sales, or hold your own raffle using prizes donated by companies that support your cause. Your employer may also match your funds, if you're lucky.
Take the Equity From Your Property
To qualify for an equity release, you will have to own your own home, and usually the youngest home-owner will have to be aged 55-plus. This can be one way to raise extra income or a lump cash sum. Talk with your mortgage provider before embarking on this route and only use reputable companies. The money released can be used for whatever purpose you like, but proceed with extreme caution. Ditto if you are applying for a loan.
Do Consultancy Work
If you stay at home during your career break, you may be able to do part-time freelance or consultancy work, depending on the willingness of your employer at your current job. Often this will provide enough income to meet your basic household bills and requirements without having to indulge in full-time work. Some employees are allowed to do extra consultancy while they are still employed, before they take their career break.
Apply For a Grant
You may qualify for a career break grant, depending on the type of break you plan to take. Look on-line and talk to people who have gone on similar career breaks in the past. Don't be put off applying for things that appear to be a long-shot: the key to successfully getting a grant is to apply for as many as possible.
Funding your career break can take time, but the results are well worth it. There are many options available, and once you plan a tight budget you may realise you need less cash than you thought. You'll doubtless also find that many of your friends and colleagues are eager to support you in your cause. Just don't leave things until the last minute - ensuring you have plenty of time will help to ensure you get the cash infusion you require.
You might also like...