Travel Health During a Career Break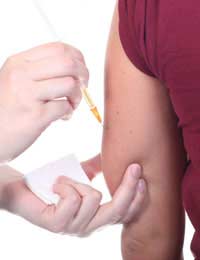 The last thing anyone needs when travelling on a career break is to come down with a dreaded 'lurgy. Whether it's a bad case of food poisoning, traveller's diarrhoea or something more serious, being ill can, at best, ruin several days of your precious time. At worst, a serious illness or accident in an unfamiliar place can be extremely frightening, and also wreak long-term havoc on your personal health.
Prevention is the best medicine, so before you go abroad for any extended period of time it's advised to have a complete medical first and take care of any long-standing niggles, however insignificant. A painful verruca, throbbing tooth or irritating piles are the last things you want to contend with on a trip to a remote location! Be prepared, take the right travel medicines with you (see below) and check travel health advisories before you go.
The Right Immunizations and Vaccinations
Vaccinations are the first step in warding off infection and preventing disease. Jabs needed vary from country to country, so make an appointment with your GP or practice nurse - or a travel clinic - to find out what you should have well in advance of your trip.
Travellers to Thailand, for example, will be advised to be vaccinated against tetanus, poliomyelitis, diphtheria and hepatitis A. Additional immunisations may include ones against TB, rabies, typhus, hepatitis B and Japanese B Encephalitis. If you go to Japan, however, as long as your UK jabs are up-to-date, you may only need ones against Hep B and Japanese B Encephalitis. Most western European countries require no jabs at all.
Warding Off Malaria
The risk of malaria is significant for those travelling to countries where it is prevalent, which is estimated to be over 100 worldwide. Prevention includes taking anti-malarial medicine properly, which means taking the right dose for the correct period of time, and seeking immediate help should symptoms occur. Anti-malarial medication should be taken beginning at least 2 weeks before your trip, and be aware that the type you take depends on the area where you intend to travel. Prevent mosquito bites by wearing insect repellent, covering up, using a mosquito net and staying in accommodation with screened windows and closed doors.
A Proper First-Aid Kit
NHS Direct recommends taking the following with you:
Plasters in different shapes and sizes and sticky tape.
Gauze dressings (sterile), including eye dressings.
Triangular and rolled bandages.
Disposable sterile gloves.
Tweezers, safety pins and scissors.
Alcohol-free cleansing wipes.
Thermometer, preferably digital.
Skin rash cream, antiseptic cream.
Insect bites and sting spray to relieve itching as well as repellents.
Painkillers, cough medicine, decongestants and antihistamines.
Distilled water.
NOTE: In many countries, taking single-use disposable needles is also a good idea to prevent HIV and other infections. Condoms are also a must
In Case of Emergency...
Knowing when - and how - to ask for help is vital. Getting the assistance you need can be especially difficult when you have a foreign language and perhaps a different climate, food, water and other hazards to contend with. Be aware of what symptoms constitute a potential medical emergency, and find out emergency numbers of locations of local clinics and hospitals. You should also have updated, comprehensive health insurance and carry a copy with you at all times, as well as any pertinent health records. If you rely on medication for a pre-existing medical condition take an adequate supply with you - don't assume you can buy what you need abroad.
Travelling abroad on a career break can be one of the most satisfying experiences of your life. Following obvious precautions such as staying safe in the sun and practicing safe sex are as important as getting the right vaccinations and checking health advisories. Read up on the area before you go and play it safe. If you do things right, you should have nothing to worry about. Good luck!
You might also like...