A Work Break to Study Abroad: A Case Study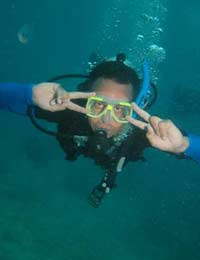 Four years ago, Dave Richardson resigned from his job, sold his house and went on a career break to travel and see the world.
"I have a taste for safaris, I love it, and I spent months on my career break going through Africa," the 47-year-old radiographer from Luton says.
"But when you have done a lot of safaris, you realise that you spend all your time chasing the big five: lions, leopards, elephants, rhinos and buffalo.
The guides are programmed to take out people who haven't done much safari before, and they charge off like crazy to see the elephant and lion. Whereas if you have done it all before you want to see other stuff."
Studying to Become a Guide
That's why last year Dave took another career break, this time a six-week training course abroad to become a guide himself. (All his safaris are purely for photographs, he hastens to add, he has never killed an animal on one.)
"My inspiration was on the television. There was some sort of celebrity thing where they went off to train and study abroad, so I did a Google search on the Internet and went myself," Dave says.
"It was a six-week basic qualification course, a Level One Game Ranger Course accredited by the Field Guides of Southern Africa. Once I complete a First Aid course I can get a certificate and be a field guide, and eventually take people on safari myself."
Physically Demanding
The course was physically very demanding, which Dave loved. "It's physically very hard. You are living in a tent, although quite a nice tent, and up at the crack of dawn everyday, either in the classroom learning or going out on various game drives or walking, learning about the environment and how to represent it to people," he says.
Conditions were made even more difficult as the group spent six weeks in a flooded camp. "The place got more and more flooded the longer we stayed there," Dave says.
"It's on the edge of the delta, a very wet and swampy region by the river. The water level was slowly rising and by the end we actually had to wade out, as we could not drive out.
"Despite that I loved it, absolutely loved it. It was great to learn things. I am not somebody who can sit on the beach, I have to be active physically or mentally, or preferably both.
I like to come back to work to recover from my holidays rather than go on holiday to recover from work."
Not for Everyone
Despite his fantastic experience, Dave is the first to admit that a career break isn't for everyone.
"Horses for courses. If people feel they need a career break, the answer is yes, by all means go for it. It suits some people, it doesn't suit others," he says.
"I got lucky, I always describe my lucky break as my divorce," he adds, half-laughingly. "I haven't got the day-to-day commitment of being a family man. I have always supported my children but they got old enough where they don't want to see their dad every weekend as they have their own lives.
When boyfriends and girlfriends come along they don't want to see their dad so often. I am a free man effectively, I just have to pay for them."
Dave says he is considering moving out to Africa and becoming a field guide full-time, not at the present time but perhaps in future. "At the moment I have commitments, I have children who depend on me for support," he says.
"I still need to make a reasonable living to pay for them."
You might also like...