Disabled and Travelled the World on a Career Break: A Case Study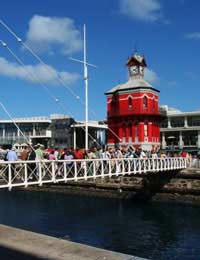 When Becky Mason went on holiday with a friend two years ago, the two hatched a dream plan of visiting all the places in the world they had always wanted to see.
"Initially we said we wanted to travel on a career break for six months," says Becky, 36, who works in group HR for British Telecom. "But even though BT is very generous and gives you six and a half weeks' holiday a year, doing a round-the-world trip wasn't necessarily possible.
"And because I have a disability as well, we decided it wasn't practical being away for that length of time. That's when our plans changed to just two and a half months travelling."
Becky, who was spinally-injured following a car accident in 1990, is now a wheelchair-user. "I went back to school after the accident, completed my A-Levels and went to Warwick University, which I loved," she says.
She stayed on to complete a Masters at Warwick business school in industrial relations before applying for graduate placements. Apart from her job she has been a trustee of the Spinal Injuries Association since 1999 and is also a trustee of the Back-Up Trust – a charity for spinally injured people involving mentoring and adventure courses.
Going Down Under - and to South Africa
Obviously not one to give up easily, Becky approached her bosses at BT for a three-and-a-half month career break – over four months in total with her annual leave included. She planned to go to Los Angeles, New Zealand, Australia and South Africa.
"I had previously been to South Africa and New Zealand. I have a friend in New Zealand and it's an absolutely beautiful country. I loved it the first time I went, although the friend I was travelling with had never been," she says.
"I was keen to visit my friend in New Zealand again and also have the opportunity to visit Australia. And my main reason to go to South Africa was to visit my fiance, who I had met on holiday the year before!"
The trip was everything she had imagined, with lots of high points. "The scenery in New Zealand is fantastic. Milford Sound in the South Islands is beautiful and we loved spending Christmas in the sun," she recalls.
"We had a barbecue on Christmas day, which was fantastic, then spending New Year's in New Zealand was a different dynamic again.
"Then in South Africa we travelled up to Namibia to see my partner's family, and we were able to drive and saw the expanse of the huge country for the first time, which really was special."
Inaccessibility Problems
Travelling abroad made Becky appreciate things she normally takes for granted in the UK, she says. "You're out of your normal comfort zone, out of your own environment. Having said that, each country was very different as to what their access for wheelchair-users was like.
"The accommodation in all the guest houses in New Zealand had accessible accommodation, and there was good access to attractions etc. The only thing we had to book in advance was transport. We met up with another friend who's a wheelchair-user as well, which added an extra dimension as to how we travelled together."
In Australia, however, she found many things that weren't accessible. In fact, she couldn't take a boat out on Sydney Harbour due to accessibility problems. "Either the ramps were too narrow to get the wheelchair on the boat, or there were steps. I was quite surprised," she says.
"And they said they didn't want to lift the wheelchair because they didn't have insurance. South Africa, however, wasn't a problem because I stayed with my partner."
Recharging Batteries
Despite those experiences, the career break was a huge success, Becky says."It was great. I had the opportunity to travel, see what I wanted to see, and also I had time after I got back without having to go straight back to work.
"I really valued that as well, as the career break gave me time to do stuff at home you never have time to do when you are working Monday to Friday. It gave me a real break for me.
"I had been working hard, quite flat out for 11 years, and had been involved in some major projects that came to fruition. I was thinking about what my next steps were, just feeling a little bit jaded.
"Having the option to think about what I really wanted to do with the security of being able to return to my job was great, as was having the space to think without worrying about getting in first thing Monday morning.
"It was also nice having time back home again to take stock of going back to the real world. A career break is definitely worth it. It's just too bad that it couldn't last forever, unfortunately!"
You might also like...