Help Your Children Adjust to a New School Abroad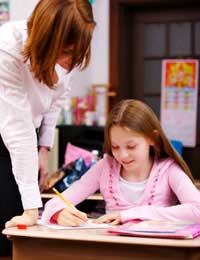 For children of all ages, the biggest difficulty of accompanying their parents on a career break abroad often is adjusting to a new school. Being the new kid on the block is hard enough, having to adapt to a new country and perhaps a new curriculum and new language as well is a double whammy.
It can be especially difficult with teenagers, who often leave life-long friends behind at home and suddenly find themselves in a confusing, unfamiliar and often frightening environment.
Adjusting a new school can be made a lot less stressful with help from parents and, if possible, from teachers and other siblings. Because school for many children is like their second home and lays the groundwork for their social life, it's important to help them adjust as quickly as possible so they can begin to flourish in their new surroundings.
Top Tips to Help Your Child Adjust
If possible, have your children start school at the beginning of the academic year (which is different in some countries such as Australia and New Zealand). This will make them feel less of an outsider, especially as other children may be starting at the same time.
Find out the dress code in the new school so your children can fit in quicker. Most schools in the UK have compulsory uniforms, abroad this is often not the case.
If your children have special interests, find out beforehand about any extra-curricular activities in which they can get involved. Most schools worldwide have sporting clubs, music lessons/art/hobby groups etc, where language skills are not key. If they excel in one area, it may help to compensate for other areas where they may not do so well. Encouraging school involvement is a must.
Listen to your children's needs, desires and fears. Don't laugh away some fears as not being valid. If they are important to your children, they are important.
If your child is young, make sure you introduce them to their new teacher, and perhaps even to the entire class. Let the teacher know if your child has any special abilities, disabilities or interests.
Be enthusiastic about the new school – look at it an amazing adventure for your children, not something scary that is worth dreading. If you put on a positive focus, chances are they will too.
New Culture, New Life
Moving to a new school abroad means adjusting a new culture. Your child may find things are done differently than at home, and he or she may have questions. Answer them to the best of your ability, openly and honestly, but let them know that just because you may do things differently, that doesn't necessarily mean you do them better. Understanding and respecting another culture is an important part of living abroad.
Sit down with your children before the begin their new school and discuss their expectations with them. If they have been attending a cosmopolitan school in London and you are moving to a small, rural town in the United States, help them to have realistic expectations. Talking can help prepare them for any unforeseen obstacles they may come across.
As older children may find it harder to adapt, both to a new culture and a new language, some countries run exchange programmes for young people, which could be of immeasurable help before you finally make the move. Discover what's on offer by contacting the education authority in your chosen destination.
Adjusting a new school, especially one abroad, takes time. If your children still feel anxious after a month in their new environment, it may be time to talk to their teacher or headteacher. Most children, however, will settle in quickly, as long as they have supportive parents and feel they are given free reign to talk about their fears.
You might also like...