Finding the Right School Abroad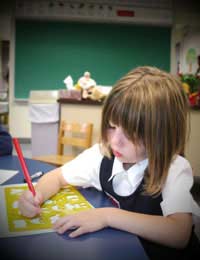 Deciding whether or not to go abroad on a career break is multi-faceted. For you, the success of your trip will depend on a variety of factors, such as what you will be doing abroad, how it could affect your career choices when you return home, and your language skills. For your children, finding the right school is perhaps the most important success-determining factor of all.
When it comes to choosing the right school for your children abroad, academic factors are only one part of the equation. Looking for a school where your kids will most feel at home and be best able to achieve both academically and on a personal level is paramount. Finding out what schools exist abroad and which one is best suited to your child or children is difficult but not impossible, and can even be done before you arrive in your chosen country.
Ex Pat or State Schools-The Choice is Yours
Two types of school normally exist abroad, state schools and ones specifically designed for children from expatriate families. In some countries, ex-pat kids are not allowed to attend local schools, so in that case the decision has been made for you. But usually it's a toss-up between choosing a state school where your kids may have to learn a new language and new learning style, or a more familiar ex-pat one, often based on the British system.
You may find that only one school is on offer, so you have a choice between sending your kids there or having them board back in the UK. But if there are a variety of schools to choose from, start by seeing if they have their own website, to give you the first glimpse into the inner workings of the institution.
Early contact is crucial, especially for ex-pat schools which often are over-subscribed and have long waiting lists. If possible, arrange your timetable to include a prior visit to the school to see it with you own eyes - and to let your child make his or her own impressions.
If location is important to you, keep that in mind. Some people simply choose the school that is closest to their home and hope for the best. Depending on your child, that may be fine. But if they are older, have acute special needs or are unduly shy/dyslexic etc, you may need to investigate further afield to make sure the education offered is appropriate to them. Talking to other parents where you will be living can be of immense help.
Points to Consider
If you will be away for one academic year or less, decide whether to send your children to a school where they don't speak the language, dependent on their language skills, willingness to learn etc. If you will be away for several years or more, immersion in a new language can be hugely beneficial in later life.
Make a budget. Local schools are cheaper, so decide what's important to you. If your kids are in the middle of exams (GCSEs, SATs etc), it may make sense - both economic and otherwise - to have them continue with the British system. Speak to their current headteacher way in advance and check with the head of the school you are considering abroad to see what exams will be offered.
Choosing a school abroad for your children during you career break is exciting. It's hard to know whether you have made the right choice, but doing your homework and then going with your gut instinct can help to ensure your decision is correct. Let your children play a part, and be aware that attending a new school in an unfamiliar country is thrilling but can also be frightening for them. Listen to their needs, and choose somewhere that will make all of you happy.
You might also like...