I Took a Career Break From My Stressful Job: A Case Study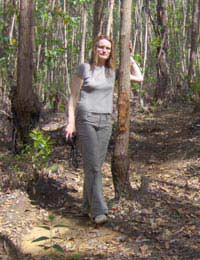 Wendy Harper describes herself as one of those people who never had time to herself. "I went straight from university to work, and straight from uni into marriage," says Wendy, 36, a senior HR executive from Welwyn Garden City, just outside London.
"I always had to consider my career or my husband, and never had the opportunity to do something unique for myself, something a bit different and exciting.
"I am a bit of an adventurer by nature, and suddenly I found myself in a very conventional way of life, in a high-powered job in The City which was very rewarding but also quite stressful. It wasn't really me."
Although Wendy loved her job, she wanted some time off to do something else, something that would both give her a break from her everyday existence as well as provide a new challenge. But what?
Moving to Madagascar
Things came to a head when Wendy and her husband started IVF, after years of trying unsuccessfully for a baby. Wendy had taken on a contract position in her last HR job covering someone's maternity leave, hoping to fall pregnant herself. When she didn't, she decided to take a career break – just for her.
"I felt tired and unsure about the future," she says. "I also had an underlying need to contribute more widely to the world. Having never travelled alone before, I wanted to prove to myself that I was capable of doing so, so I wanted somewhere remote." She says she's "thankful" that her husband supported her decision wholeheartedly.
Wendy chose to visit Madagascar, a country with which she had always been fascinated, thanks to watching Gerald Durrell documentaries. "The opportunity to see some of the world's most unique wildlife, live a simple existence for a while, and to help the Malagassy people and to help restore some of the deforested areas was very exciting," she says.
So Wendy revived her A-level French and spent six weeks at the Madagascar Lemur Conservation Project arranged through Frontier (www.frontier.ac.uk), a conservation and development NGO. Their aim is to conserve the world's most endangered wildlife and threatened habitats and to build sustainable livelihoods for impoverished communities in the world's poorest countries.
Simple Yet Environmentally-Friendly
Wendy's stay was characterized by being simple and green, without mobile phones or fast food. "My bungalow was a canvas-covered wooden hut with a single bed and the shower was comprised of a charcoal-heated water in a plastic bucket administered by an enamel mug," she recalls.
The new sounds, smells and sights provided a stimulating yet oddly reassuring background to her new way of life. She loved listening to the rain on her canvas roof, looking at a brilliant and stunningly clear sky, and smelling the sweet scent of orchid perfume in the evening time. "And I didn't even tire of the early-morning cock crow and cicada's hum," she adds.
As the aim of her project was to provide a food source for the lemurs, widening their habitat and bringing them closer to the camp, she spent much of her time dealing with steep terrain as she planted 350-400 trees in a forest corridor. She also helped compile data for planting trials, travelling by bush-taxi and visiting local markets.
"When I returned to the UK, I was very fit and toned, felt refreshed, appreciative and happy – a 25-year-old man on the first of my two flights home to Nairobi thought I was only 23! My husband barely recognised me and was thrilled that I had benefited from the experience so much."
Adjusting to Life Back Home
Since her return, Wendy has been looking for a new job in HR. "I have worked very hard for a very long time, ten years in HR at a senior level, so I can afford to do keep on looking. There are jobs available, but not at my level," she says.
"HR is very very stressful. It's a very demanding job, you are dealing with people every day and you can see the best side of them and the worst. Expectations, particularly in The City when you are working for professionals themselves, are very very high and you have to be constantly on top of the game.
"Going on a career break was really good as I was working physically very hard, which you don't typically do in an office. I was planting trees and it helped me get over the whole IVF thing. I also truly felt like I made a difference and that my contribution mattered, no matter how small."
She says she "honestly cannot think of a better way" to have spent her career break. "I would heartily recommend an experience of this nature to anyone looking for a meaningful and rewarding change. Thanks to everyone who made this trip possible – my life has definitely changed for the better."
You might also like...