Why a Mini Career Break?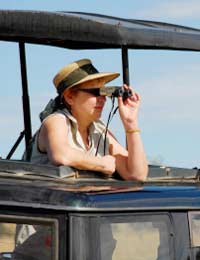 Most of us go on holiday at least once a year, often seeking a relaxing time far removed from the hectic pace of everyday life. Whether we choose to sun ourselves on a tropical beach or splash out on a five-star spa hotel, we usually are seeking to recharge our batteries and return to our old jobs feeling rejuvenated and refreshed.
But if you're beginning to get fed up doing the same old thing year after year, now there's a chance to have a different kind of holiday, one that may actually have long-term effects on the rest of your life. A mini career break, one that lasts just one month or less, could give you the opportunity to change the way you look at things forever – and even start you on a new career.
What is a Mini Career Break?
Mini career breaks are designed to let people get away from it for up to one month, doing something more meaningful than perfecting their tans or dropping in on far-flung friends. They can involve teaching English in Nepal, helping with a conservation project in India or working to save endangered animals in Africa, anything that is a bit unique or unusual.
Other mini career breaks give people the opportunity to try out a new place to live or engage in different employment without having to commit to it full-time. If you have always thought about becoming a joiner, for example, you could spend a month building desks and shelves for a school in Romania to discover if working with your hands is really for you. Alternatively, you could take the month off to learn new skills, or to visit a part of the world in which you have always dreamt of living.
Mini career breaks are also beneficial for people with long-term work commitments or children, people who don't have the luxury of taking six months to a year off. If you have a lot of financial responsibilities you may have thought it wasn't feasible to go on a career break and leave your paid job behind for an extended period of time. Now you can.
Advantages of a Mini Career Break
Mini career breaks have lots of advantages, and most people who choose to go on one find them much more rewarding than a run-of-the-mill holiday. Advantages include:
Getting to test the waters before committing to a new job or new country
Being able to travel without upping sticks completely
Having the chance to do something new, secure in the comfort that your old life is back home waiting for you
Seeing a new part of the world without having to pay huge sums of money to do it – especially if someone else - i.e. your employer abroad - is helping pay for your travel
Helping someone else in another part of the world
Honing skills that can help you further your career, or learning new skills
Trying something new short-time without having to give up your old life, old employment or friends and family
Trying out a mini career break can be a liberating experience, allowing you to try things you never thought you'd have the time – or finances - to try. Sampling something new or spreading your wings in a different direction can have far-reaching implications, and a mini career break could be the beginning of a whole new lifestyle. Good luck!
You might also like...